Meridian One programs have been created and are presented by the following people:
Daniel Dobos
Founder of Meridian One, Memory Guru & Advanced Learning Strategies Expert
ABOUT
99.25 – Final mark in Year 12.

Engineering/Law, Melbourne University

Achieved the top mark in International Law at University then achieved largely 1st class honours in his final years of University.

Published journals articles internationally… in both the fields of International Law and Construction Management.

Founded VCEnet.com.au… an online portal based on the successful experiences of top-performing VCE students. Managed 200+ contributors, received sponsorships from The Age, RMIT, ICAA, Blue Skies Unlimited, Foundation for Young Australians and many more.

Worked for The Boston Consulting Group… business consulting firm with 62 offices around the world.

Founded Meridian One… managing public seminars run across Australia, including Melbourne, Wodonga, Sydney, Brisbane and more. Regularly presents for Monash University School Access Program, works with various corporate clients (like Xerox) and at leading schools around Australia.

Memorised 114 full names in 15 minutes.

Competed in the Australian Memory Championships… and consulted with participants competing in the World Memory Championships.
Daniel's presentations include…
How he went from achieving average marks at schools to achieving a final Year 12 mark of 99.25, the top mark in International Law and then 1 mark higher in the next two subjects he studied.
Specific strategies to memorise the actual things that you are tested on in your VCE exams
Why most students experience a mental blank in exams… and how to avoid this from happening to you.
The 6 memory principles… and how you can unlock your super memory.
How to literally memorise anything…
Definitions
Quotes
Facts
Names and faces
Dates
Statistics
Paragraph of texts
Legislation
Summaries of articles
Responses to short-answer exam questions
Formulae and equations
Diagrams or maps of anything
You name it!
Why most students waste hours and hours creating notes for exams… and how one simple technique can halve the notes that you take and mean that they are much easier to remember in exams.
How to get organised, become inspired and produce results.
The formula used at the World Memory Championships to memorise over 5,000 items… it's just about knowing how to combine three memory techniques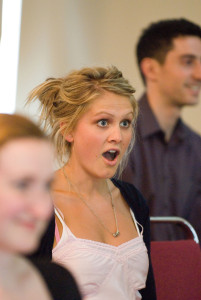 Above: Participants are shocked as Daniel Dobos remembers the names of each of the 78 people at this seminar.
Simon Moss
VCE English Expert, Social Entrepreneur & Veteran Youth Facilitator
ABOUT
99.60 ENTER… achieved from completing VCE

Perfect score of 50 in English… including a perfect 120/120 score in the final English Exam.

BA (1st Class Honours) from University of Melbourne…included a Major in Politics

Masters of Development Studies… currently studying part-time at University of Melbourne with a focus on education

Currently Chief Operations Officer, Oaktree Foundation. He has spent time with Oaktree's projects in South Africa and Ghana, and co-lead the Our Generation's Challenge field trip to Cambodia and Thailand in July 2006.

Future Summit 2007 Leadership Award…The Future Summit is the nation's premier platform for the discussion of strategic trends and directions.

World Economic Forum, Speaker on Education (2007)… shared the platform with Gordon Brown, upcoming Prime Minister of the UK

Youth Facilitator – extensive experience in speaking and running workshops with young people, community groups and corporates.
SIMON'S PRESENTATIONS INCLUDE…
How he went from receiving Bs and NAs (Not Assessed marks) to achieving straight A+ results, a perfect score in English and a perfect 120/120 for his final English Exam.
Why success in VCE English is not about using big words… and why it is about using the strategy and technique.
The key elements that every paragraph must contain… and how to ensure that your essay stays on track, instead of going off the topic.
The 5 key strategies to writing an A+ essay… and why most students overlook them.
How to approach and structure an essay... including the one step that every top-performer takes before planning an essay.
The number one reason why students do not get top results for text analysis… and the simple, step-by-step formula for A+ text analysis.
DAVID CAMPBELL
Energy & Stress Management Expert
ABOUT
Nearly a decade of experience in the health and wellness industry

NLP Master practitioner and results coach

Personal trainer… including trainer for the Biggest Loser competition (Melbourne)

Business owner… successfully ran a Sales and Marketing business over a 4 year period, finished # 3 out of 27 branch offices in Australia

Author… most recent book is 'Excuse me, is this your lung?

'

Certified PADI Scuba Diving Instructor

Wellness coach

Seasoned presenter… has presented to thousands of students and consistently receives rave reviews.
DAVID'S PRESENTATIONS INCLUDE…
Why most students get stressed about VCE… and powerful strategies to end stress.
Why most students feel drained of energy… and proven techniques to give you much higher energy levels.
Why most students get distracted from studying… and how you can easily work more efficiently than ever before.
How it's possible to sleep less hours than you are currently sleeping and wake up with more energy than ever before.